Art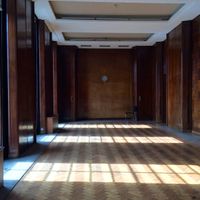 NOW Project at Hornsey Town Hall Arts Centre 15-20 September 2016. Exhibition of work produced from last year's residency. My piece "Assembly' is a 6 speaker & binaural mix installation/composition using sounds collected from in & around the building.
A binaural mix of a 6 speaker installation by Peter Coyte made for the Whitstable Satellite art festival 4 - 12 June 2016. 
Material for this piece are from sounds have been collected during a series of walks guided by the principles of the derivé (Debord), taken along the coastline using hydrophones and binaural microphones.  
The recorded sonic events were incorporated into a score, responded to in real time and captured as gestures on the computer. 
Whitstable's location on the ancient trade thoroughfare of the Thames estuary, its history as a port and its function as the site for the first professional divers together with memory and geography will be explored with a re-sounding of the score and of the recorded events and field recordings. There is also a strong awareness of how the coast is significant within the context of current events.
Automatic Writing Circle are from diverse musical backgrounds, amongst them, historically informed performance, noise musics, electroacoustic composition, experimental and popular music. They meet to explore the nature of these traditions, the currents that flow between them, and to experience the loss and rediscovery of sonic identity aided by the mediation of the Ouija instrument.